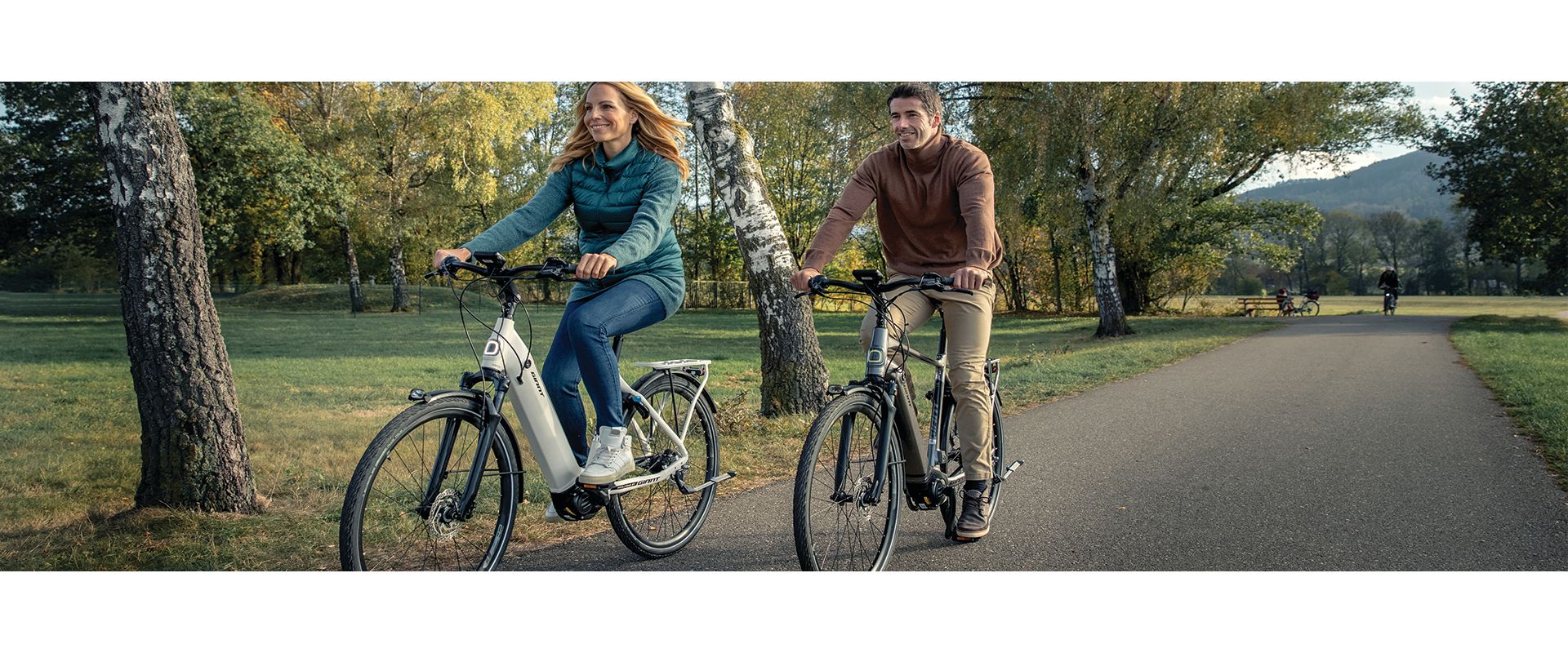 Geniet van de nieuwste e-biketechnologie inclusief automatische ondersteuning, navigatie en geïntegreerde verlichting. De DailyTour E+ is een leuke, nieuwe manier om op pad te gaan.
Highlights
This versatile and practical E-bike is ideal for daily use in a variety of environments. It comes with all the built-in features you can think of, including a kickstand, lights, fenders and racks—all neatly designed and built to help you pack and carry your essentials and keep them secure. With a SyncDrive Life 60Nm motor, you also have the ability to ride in the Smart Assist mode. This technology determines the support you need and shifts automatically—so you can fully concentrate on the road and your own riding experience. On-board navigation is another great feature, and it comes to you via a new RideControl EVO display that's smoothly integrated into the handlebar. Integrated lights, which run day and night, increase your safety with added visibility on the road. And to ensure more comfortable ride, the DailyTour E+ has a Monoshock OD2 suspension fork to soak up bumps and smooth out your ride.
Foto's




Technologieën


ALUXX SL Aluminium Technologie
We proberen al onze frames zo licht en sterk mogelijk te maken. Door onze ervaring in het maken van performance fietsen weten we waar een frame comfortabel moet zijn en waar stijf. Met die kennis ontwikkelden we de ALUXX SL Aluminium: een aluminium frame met precies de juiste verhouding tussen sterkte en gewicht. Een bijkomend voordeel van aluminium: het kan niet roesten.


Energypak
De nieuwste EnergyPak-batterijsystemen van Giant hebben gestroomlijnde ontwerpen die zijn geïntegreerd met de e-bike voor een strak en modern profiel. Giant E-bikes bieden verschillende EnergyPak-opties, waaronder de EnergyPak Smart en EnergyPak. Elke fiets is ontworpen om de e-bike-ervaring te optimaliseren voor een specifieke rijstijl.

Hybrid Cycling Technology
Hybrid Cycling Technology is een uniek systeem dat we in nauwe samenwerking met Panasonic en Yamaha ontwikkelden, en dat je in geen enkele andere e-bike tegenkomt. Het systeem combineert elektrische kracht met de kracht van de fietser, om een zo natuurlijk mogelijke e-bike ervaring te creëeren. Hybrid Cycling Technology bestaat uit vier innovatieve technologieën: SyncDrive (de motor), EnergyPak (de batterij), RideControl* en PedalPlus*.

RideControl EVO
De Giant RideControl EVO is Giant's meest geavanceerde display. Een LCD scherm met hoog contrast (makkelijk af te lezen) en een stevige aluminium behuizing. Met de bijbehorende RideControl app haal je écht alles uit je e-bike. Van de status van de batterij tot de tuning van de motor, ieder detail is handmatig aan te passen. Je telefoon onderweg opladen? Geen probleem, met de ingebouwde USB-laadpoort.


PedalPlus 6-Sensor Technologie
Giants PedalPlus 6-sensor technologie meet precies hoeveel kracht je op de pedalen uitoefent, zodat de motor altijd de juiste ondersteuning geeft. Zo fiets je heel natuurlijk en gebalanceerd. De PedalPlus 6-sensor technologie wordt toegepast in de nieuwste generatie SyncDrive Life middenmotor. Door het meten van acceleratie en hellingshoek is het mogelijk om naast de vijf ondersteuningsstanden ook automatische ondersteuning te bieden: de Smart Support modus. De motor detecteert in dat geval hoeveel ondersteuning nodig is en levert de juiste hoeveelheid energie.

SyncDrive Life
Met de vernieuwde Giant SyncDrive Life middenmotor fiets je altijd met precies de juiste ondersteuning. De motor heeft vijf ondersteuningsstanden (van eco tot sport+). Dankzij de Smart Support modus (die door middel van zes sensoren meet hoeveel kracht je uitoefent op de pedalen) kiest het systeem eigenhandig de meest efficiënte ondersteuningsstand.